THE ULTIMATE KIRTAN PACKAGE
Launch Your Home Chant Practice with a 21 Heart Opening Chants
5 Self-Paced Online Courses Included!!!
Learn how to play chants by your favorite Western Kirtan artists through step-by-step instructions. Tap into the practical wisdom of the beloved yogic deities as you launch your home chant practice in a fun & easy way.
For Kirtan Beginners & Chant Explorers with a Harmonium
Access Now!
Save 45% off Registration with Discount Code
ULTIMATE
Everything You Need to Launch Your Self-Paced Home Chant Practice!
This package is truly the ULTIMATE for anyone wishing to build a strong foundation for their Kirtan practice on their own time. Shift your life through the myths, wisdom and mantras of 7 essential yogic deities, build your confidence through tips on playing your harmonium and sharing your voice, open and clear your chakras with Bija seed mantras and English affirmations, expand your practice by learning chants by Western Kirtan artists, and more.
Learn 21 Chants
Build your repertoire of chants by learning mantras for your 7 chakras, chants for 7 for the most beloved yogic deities, as well as 7 chants by Western Kirtan artists! Learn with our super easy format with downloadable chant sheets and overhead view videos of chant breakdowns and guided practice.
7 Essential Deities
Get a "5D" immersion through the myth, mantra, chant, embodiment meditation, and life lesson for beloved yogic deities: Ganesha, Sita + Ram + Hanuman, Krishna & Radha, Kali & Durga, Shiva, Lalita, and more! Integrate the energy of these deities as you shift your mood into love and gratitude.
Expand Kirtan Practice
Build confidence as you grow your Kirtan skills, launch your home chant practice, and perhaps share what you've learned with others! Learn how to get the most out of your harmonium through tips and tricks for playing your instrument with ease. Plus, strengthen your voice through vocal yoga, warmups, and breathing techniques.
Are you ready to build a solid foundation for your Kirtan practice as you expand your repertoire of chants?
Are you ready to dive into learning how to play your harmonium with confidence as you chant for yourself,
Are you a Kirtan lover, yoga teacher, or aspiring Kirtan Leader looking to learn new chants, and begin your journey and, perhaps, one day share Kirtan with others?
Then you are in the right place. We have designed this ULTIMATE KIRTAN PACKAGE with you in mind.
Based on 13+ years of working with students, from total newbies to total professionals, we've organized a perfectly curated compilation of courses to get you on your Kirtan path.
Start by getting familiar with your harmonium, how to play it correctly, and troubleshoot any problems that arise with our helpful tutorials. Once you are familiar with the ins and outs of playing your harmonium, learning to play your instrument while you chant is fun and easy!
Next, increase your vocal confidence by learning breathing exercises, vocal yoga, stretches, and more so you can strengthen your singing and become more comfortable expressing your voice.
Then, with our accessible and super user friendly teaching methods, you will easily learn 21 amazing chants! Start with 7 Sanskrit Bija seed mantras & English affirmations your chakras, 7 chants for some of the most beloved yogic deities, and 7 more chants by top Western Kirtan artists.
Best of all, you will learn to access the wisdom and integrate the energy of the 21 chants for more ease, peace, love, and connection with the Divine.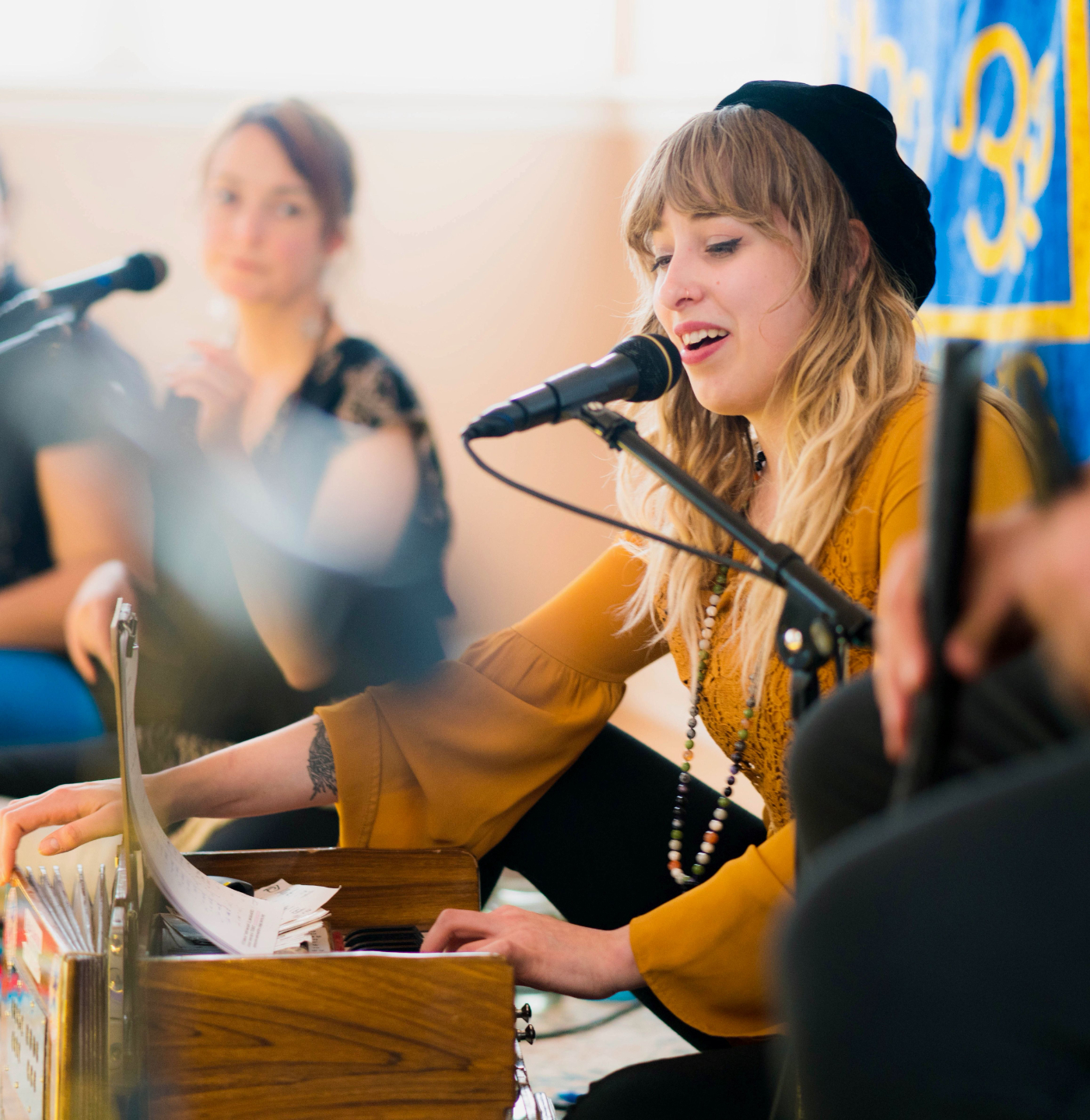 What Makes Us Different:
At Kirtan Leader Institute, we make learning fun and easy. Our courses simplify and streamline the most USEFUL information making learning extraordinarily accessible for students of all backgrounds and levels of experience.
Since our goal is to make your learning experience as easy as possible, in our system you don't need to read or understand Western Music or Indian classical music (Sargam). We have designed our programs so they are approachable even for those with zero musical background. If you DO have a musical background, you're going to really appreciate how elegantly we've put everything together!
Our learning is sequenced in a finely tuned way. So, instead of taking one giant leap, we guide you to take small steps, adding a slight challenge along the way, each of which builds upon the previous one. Why? Nobody likes to be thrown into a chant where they feel like they are in way over their head. By learning in this step-by-step way, at the the end, students find themselves saying "I can't believe I am doing this musically complex chant - and it's so easy!"
We have carefully distilled the primary elements of Kirtan so you can quickly and easily bring the energy and wisdom of Sacred Chant into your life without becoming overwhelmed or frustrated.
We are known for our dedication to making the learning process a fun, interactive, and results focused experience for YOU.
What People Are Saying...
"I'm blown away! My harmonium just arrived, and I wanted to start playing it ASAP. This course set me up in the perfect way - from the harmonium tutorials, to the step-by-step chanting demos, to the vocal warmups. You guys really thought of everything a chant lover would need. Thanks a million!"
Eddie
Entrepreneur
"I've taken other Kirtan trainings in the past and after going through this course, I can whole heartedly say you have PERFECTED the Kirtan learning process. This is the best Kirtan package out there and it comes at an incredible price. Don't wait, just buy it and start chanting. 10/10 recommend."
Chris
Yoga Teacher
"I have been so nervous to start learning how to play my harmonium, but this program changed everything for me. The way that everything was presented made it soo easy to learn the chants, figure out where to put your fingers, pump the bellows, etc. The unexpected bonus was actually getting better at singing too!"
Sarah
Massage Therapist
Meet Your Instructor
Since 2010, Mike Cohen, MA, has supported thousands of chant fans on their journey into Kirtan Leadership. Each year, Mike and his team train hundreds of Kirtan Leaders through his Kirtan Leader Institute—from total beginners, to those who share Kirtan with others, and even some who go on to lead bands, create albums, tour and play festivals!
His proven system (which bypasses the need to read or understand Western or Indian music or music theory) quickly and easily guides students to chant at home and share with others in a way that makes intuitive sense to those with no musical background.
Mike loves teaching students how to play chants on harmonium, guiding them how to build Somatic Awareness & Shakti Awareness, and helping them access deep wisdom through myth in a way that's both relevant & invaluable for our modern times. In 2020, Mike released his fourth full-length Kirtan album with Grammy nominated producer Ben Leinbach. Mike lives in Boulder, CO with his partner Martha. He is committed to sharing Kirtan and teaching people how to chant at home and share sacred chant with others.
More Questions?
Enter your email address in the form below for more information: